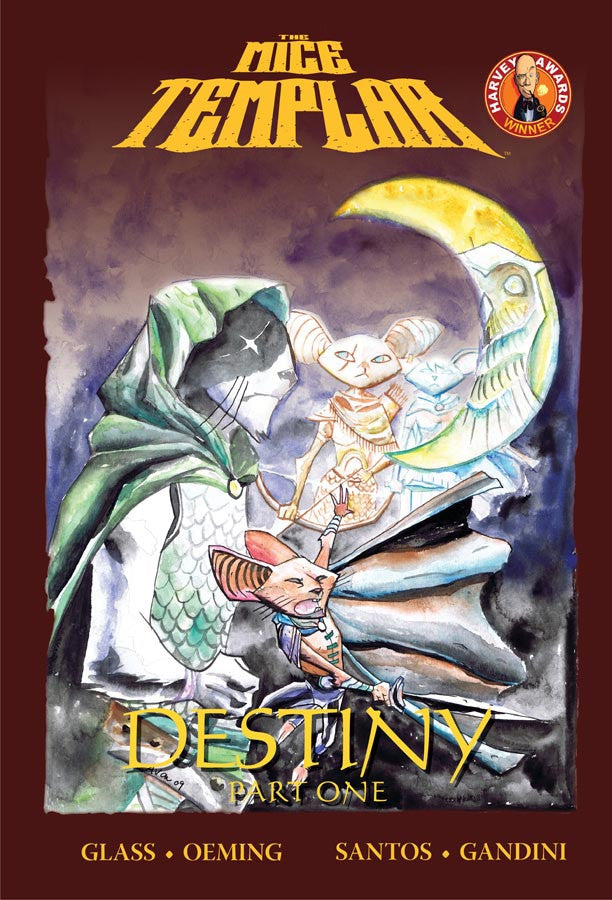 The Mice Templar Volume 2.1: Destiny, Part One (Signed)
"I can't recall the last fantasy-based graphic novel
I read that was so literate, so charming, so thrilling
and so ridiculously wonderful that it nearly defies description."
From the Foreword by Gail Simone
acclaimed writer of Secret Six and Wonder Woman
Karic might be the Chosen One...but what does such a title even mean for the young mouse who desires only to save his family from a monstrous fate? Under the training of exile Cassius, Karic learns what it truly is to be a Templar knight and warrior. While Karic's best friend Leito rallies his fellow prisoners, struggling to become a leader against impossible odds. Both mice find themselves on a collision course with destiny.
And thus continues the extraordinary adventure of magic and wonder, of faith and valor, and of one small mouse whose destiny may change the entire world.
Written by Bryan J.L. Glass • Illustrated by Victor Santos
Colored by Veronica Gandini
Collecting the award-winning The Mice Templar: Destiny issues 1-5, created by Bryan J.L. Glass (Magician Apprentice comic adaptation, Riftwar, Quixote) & Michael Avon Oeming (Powers, Red Sonja, Rapture), published by Image Comics.
This copy is signed by co-creator Bryan J.L. Glass.
At this time the hard cover edition is not available.
Ships within 7-10 days.