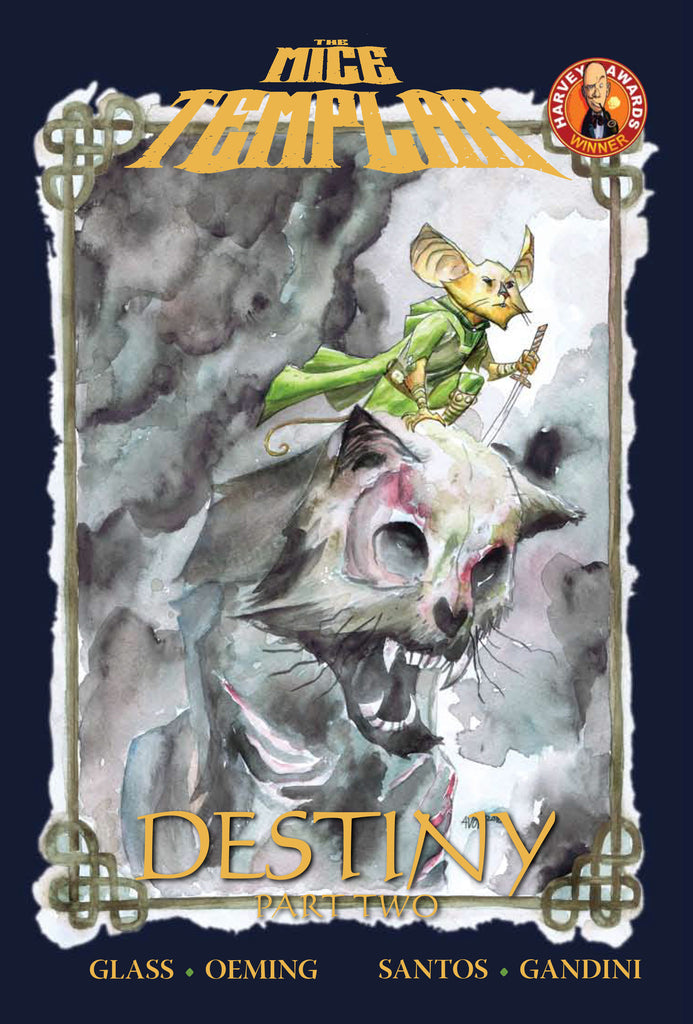 The Mice Templar Volume 2.2: Destiny, Part Two (Signed)
"...A nice subversion from the clichés of such a fantasy trope:
Karic was a prophesied 'hero' on a quest, but that soon
turned out to be a hoax, a manipulation that led [to]
a much darker and twisted place..."
From the Foreword by Ed Brubaker
Eisner and Harvey Award-winning writer of Captain America and Criminal.
Destiny, prophecy and free will collide as the young mouse Karic prepares himself for an audacious confrontation with the fearsome Snake god of the druids, for the salvation of his family and the fate of all mice. Yet may forces stand in his way: the tyranny of the mad King Icarus, the twisted riddles of the Bats of Meave, the ancient demonic Nathair, and certain doom at the claws of the Zombie Cat!
Thus continues the extraordinary adventure of magic and wonder, of faith and valor, and of one small mouse whose destiny may change the entire world.
Written by Bryan J.L. Glass • Illustrated by Victor Santos
Colored by Veronica Gandini
Collecting the award-winning The Mice Templar: Destiny issues 6-9, created by Bryan J.L. Glass (Magician Apprentice comic adaptation, Riftwar, Quixote) & Michael Avon Oeming (Powers, Red Sonja, Rapture), published by Image Comics.
This copy is signed by co-creator Bryan J.L. Glass.
At this time the soft cover edition is not available.
Ships within 7-10 days.